It is market day and the streets are full of donkey carts and barefoot pilgrims wrapped in their white gabi's, driving their wares to the square. We buy potatoes, cabbage, beets, kale, onions, garlic, eggs and a chicken. Darlene named her Doro Wat, which is the national dish of Ethiopia, a spicy chicken stew. Philippa declared him a rooster and Joni sat on our patio and entertained the hospital staff with her arsenal of barnyard animal calls, drawing not only the rooster, but the sheep grazing in our yard. Yamatan prepared the bird for us, after I crawled into a shrub to retrieve the hobbling fowl as he made his break for it. We added pasta and spices and stewed him up in a pot we also bought from the market for just such an occasion.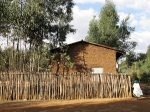 On the way home we took my favorite street, past the mosque and imams house, and like a child I peered thru the slotted wooden fence to the large golden wheat fields that makes up the eucalyptus lined yard. The men in the field across from ourhouse sift teff from hay and drive their cattle in circles to mix it up. Donkeys bray from somewhere out of sight and children run the dirt packed avenues with homemade pinwheels spinning in the wind. The hospital was quiet with two new births, the sun was present and ready as always.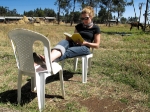 Darlene spreads across the chairs in the yard, dark glasses on, reading a novel as the heat of the afternoon soaks her clothes with warmth. Our pails are full of water, as today is a water day. At the stadium, the hospital futbol team tied in a tough match and Manchester United, the town favorite, won on the tele. It seems the perfect day.
[smooth=id:39]