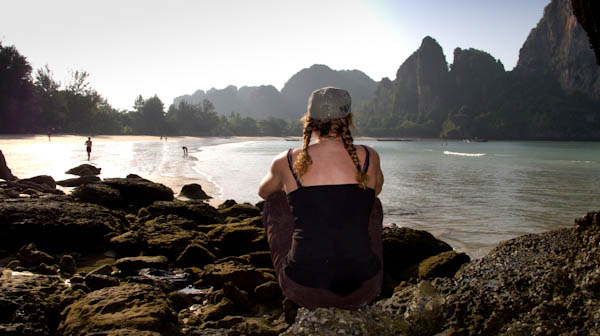 Darlene lowered herself over the side of the boat into the surf and I passed down her bags and leapt in beside her. It had been thirty six hours of travel, thru South Korea, a night in the Bangkok airport, catching the first flight south to Krabi and finally this long tail, outboard motor. The beach before us becomes immediately thick jungle, rising slowly to an enormous crescent of limestone cliffs which blocks out thailand with it's cars and noise. It is accessible only by sea.
Otherwise traveling lightly, we are reminded of histories of nineteenth century travelers arriving on foreign, tropical beaches with their porters and trunks. Here, we arrive with our own library, a dozen or so carefully selected books of varying inspiration, pens, paper, and a collection of stories in our heads from our previous travels. We have also a duffel bag with climbing shoes, a rope, harnesses, and quick draws, some of which have been in this jungle years before. We will lighten our load when we donate our gear to local route setters, but that will be a couple weeks from now.
Walking ashore, my mind races to Robinson Crusoe, but the bamboo bars and hammocks remind us that we're not alone. International travelers from all corners, tanned ape men and women, coming ragged out of the jungle and scaling the crags, tribes of their own, insane with tattoos, piercings, and matted dreadlocks, a Lord of the Flies with no antagonist. They are climbing some of the hardest sports routes in the world. Darlene joins the fray, leading the Groove Tube, a natural tube in the limestone's beautifully pocketed cliffs, dripping with stalactites. The evenings are capped with beer Changs, fiery sunsets over the Andaman Sea, green curries, fresh seafood, pad thai, and Darlene's favorite, sticky rice with Mango.
Licking her pen, Darlene shifts in her little chair, tucked into a wooden table by the sea, and opens her notebook. Our collection of stories builds, laughing, telling and retelling each other tales of adventure, disbelief, learning, frustrations, thrills and humilities we endured in the few shorts years we've know each other. "This is only the first volume," she teases as we inevitably dream about where else we'll go.