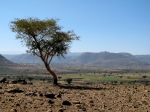 The tire was flat when the car arrived. When I came out to greet him, Mulu was already under the car and surrounded by the neighborhood children, who were better behaved than I'd ever seen them.
There is an adage in Africa that with film and video, it's best not to linger too long. The gear is expensive and a temptation and over the past few weeks, we'd had it out far too much. There are other, now amusing circumstances as well, better shared over a beer at a later date, but ultimately, it was decided that we needed to get the gear out of this small town and into Bahir Dar. Joni and I were leaving first thing the next morning.
It was my single biggest disappointment of the trip. I did not want to leave Darlene, I had just found a seemingly ideal translator and photo enthusiast in one of the hospitals midwifes, I had plans to watch futbol with an Ethiopian doctor who'd become an increasingly good friend, and, perhaps most important, I was invited to play on the hospital team's volleyball tournament that Sunday.
We packed all the gear into the land cruiser and set out. About twenty minutes out of town the road starts winding down a breathtaking canyon to a water crossing thousands of feet below. It was market day, again, and the line of merchants streaming into town was also crushing in that I wanted stay in Mota. My heart sank as donkeys, goats, sheep and shepard were all on foot marching toward town. Men and women and children in their gabis and wares, many barefoot, the march of walking sticks and the donkey carts. We head down the canyon and I texted Darlene that we were beyond town, freely on our way.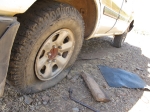 Freely, that is, until we started to climb out of the canyon and the back tire blew. I'd never heard a tire blow like that. I'm more accustomed to the slow leak.
A local boy helped change our tire, which included he and I rocking the vehicle back and forth so Mulu could wedge the jack in under the body. We eventually gave him a birr for his troubles.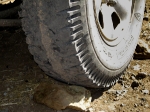 I inspected the remaining tires and found that though the spare was completely bald, it was not the worst one. The rear driver-side tire had no rubber at its center and we were two hours from Bahir Dar. The road is a never ending stretch of packed gravel with washboard grooves and sharp loose rocks. It wears a heavy coat of fine grain dust that gets everywhere and as I gazed out into the hot day ahead, I was preparing myself for the inevitable bus ride rescue.
But this is Africa, as they say, and somehow all the pieces more or less held together and after another hour we still had four tires full of air. We pulled into a little village where we patched one of the spares. Once again on our way and forty minutes later, we finally crested a small rise and saw Lake Tana and Bahir Dar spread out before us. It was beautiful. The lake expanse felt like the sea and the town of tree-lined avenues swayed in the breeze. By now the back seat and our gear was full of dirt from the dry countryside and we were looking forward to soothing our sunburned skin under cool, running water.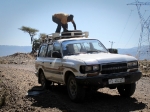 As we wound down toward town, we crossed a long flat stretch and slowly, the car decelerated. I pointed to a building under construction as the car rolled to a stop. "What are they building there?" It's a new hospital, he said, pulling out his cell phone. He apologized, "it is my fault, I forgot when we were in the village, but I will call my friend and he will bring more petrol." We were seven kilometers out of town and completely out of gas.
POSTSCRIPT: Though I left Mota four days before Darlene, she arrived here with me yesterday. On her return trip, the rear driver-side tire went flat and Mulu received four new tires that afternoon.  Her four days remained challenging in terms of the medical condition of Mota Hospital and it's patients, but rewarding in the nature of her stay.