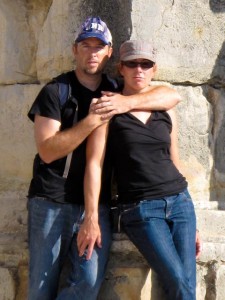 Time slows, progressing at a sluggish pace towards September 2009, when our journey to caper off the North American continent begins, and we head east with the setting sun. Our checklist grows exponentially, in spite of the fact we tick off resignations, storage, international accounts, immunizations, visas.
Our desire to voyage over continents together, discovering ourselves and the world around us began simply one summer, beneath Oregon sky azure. Four days of drifting asleep under the desert stars, atop mountains, on a sandy beach… together, our voices carried through crazy dreams, passing over midnight into the wee hours of dawn.
A lonely cloud passing over proved vital, birthed from our amorous energy. Cumulus in nature, its likeness to an Indian elephant was eerie, we swear it lingered and drifted about unusually long. As the wind picked up and it turned to plod off, he raised his whiskered trunk one last time, inviting us along his wild excursions. Together, we clambered unsteadily atop his leathery back, promising to pursue our dreams, as a new understanding of life morphed before us. The Elephant Cloud was born.
Since then, when times are toilsome, restlessness itches the toes or a decision teeters precariously, we look up and there trotting across our path, just in the nick of time, The Elephant Cloud…