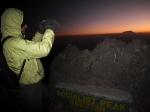 We climbed ten thousand feet in less than forty eight hours, camping twice along the way. Five minutes before sunrise, Darlene and I gained the summit and Marco joined us as the sun rose over Mount Kilimanjaro in the distance. We were the first to summit that day just ahead of a massive group of Slovenians, who just missed the sunrise but immediately commandeered the tiny peak, ill-tempered.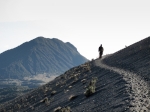 Upon touchdown in Tanzania three months prior, we really believed we would climb Kilimanjaro, bag Africa's highest peak, bask in the bragging rights and, coupled with the Serengeti, we'd do Tanzania right. We did do Serengeti, though we kinda went in the backdoor. But we never thought we'd be on the summit of the other mountain, staring across at the snows in Hemingway's yarns.
Then again, nothing in Tanzania went the way we expected. And it was all for the best.
After three months in Tanzania we'd learned that the more you planned, the less you saw. Preconceived notions will prove you a fool and only by walking slowly with eyes wide open do you start to really see Africa.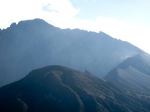 Our climb was cheaper, more aesthetic, and less crowded unless you count the giraffe and buffalo. Our traveling companion surprised us with a rare form of HAD, high altitude diarrhea, "guys, I had to use rocks."  Our mandatory armed ranger came down with malaria and had to be evacuated, leaving us to follow the fresh buffalo tracks on our own. These were circumstances out of our control, but our social faux pas came in the process of tipping, an extravagant affair in full documented view of our entire staff, which consisted of a main guide, an assistant guide, six porters, a cook, and our aforementioned armed guard. A ridiculous affair but so full of inexplicable decision making that one can only describe it as consistent.
Thats Africa. Consistently unexpected, except in expecting the unexpected for all sorts of reasons that we'd never come up with on our own but ultimately boil down to flawed simplicity. And in the end, I smile knowing that no other country I've ever visited has challenged my place in the world quite like this east African nation.
Life, In a Nutshell from Elephant Cloud on Vimeo.
[smooth=id:27]