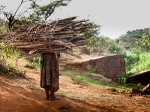 This spring we traveled to Gimbie, Ethiopia where I made a promotional video with Monica Barlow and Binyam Teferi to raise awareness for Podoconiosis, a debilitating disease just "rediscovered" in western Ethiopia. The video has since been widely viewed, including one very important viewing by the good people at KEEN Shoes.
Joni Kabana, a friend and professional photographer in Portland, has been working extensively to raise awareness of health conditions in Ethiopia.  In the process, the video was included in her presentations and as a result, I've learned that 918 pairs of shoes have been donated to Gimbie for the patients suffering Podoconiosis, courtesy of KEEN.  We are currently looking into avenues to get them there and I am extremely pleased that video played a role in helping the people who've touched me so deeply.
I've re-attached my video and a photogallery of Monica and Binyam delivering shoes to rural Ethiopia in April 2010.
[smooth=id:29]