Volunteering for FAME Medical Clinic since December has its benefits. Aside from getting to know the locals, we have befriended many of the Maasai staff. Evenings, they come by and we laugh trying to communicate, learning a few Maasai words, lots of pointing. Never short of a smile, their company is wondrous, I have become enamored with the Maasai culture.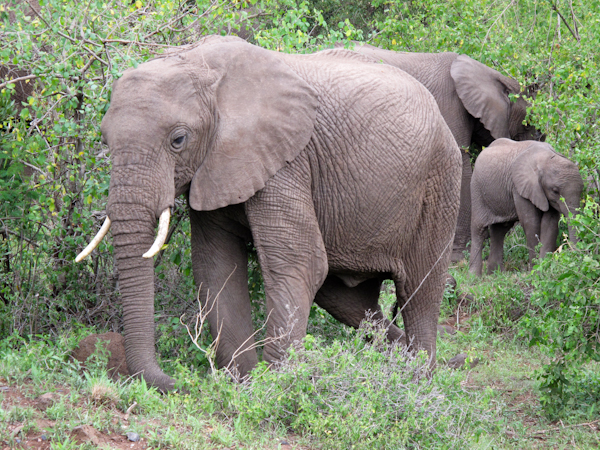 Just so happens an escari or night watchman, has welcomed us to his family's boma in a Maasai village about 30 km south east. Halfway to his village, we are surprised as a herd of elephants emerge from the forest and decided to linger before crossing the road. Amazing creatures with ivory tusks chomping grass and plants. A baby saunters closer as its mother's ears fan out, giving us our first warning. A trunk is raised as Jay captures these large beasts. We are in awe and drive away slowly.
Off the road, a left at the baobab tree, right at the acacia tree, one room school house on the right, steer away from dirt path, up the left bank.….
As the Maasai steps from the car, we are greeted by his family, more and more emerge from their mud huts. He lovingly rubs the heads of all the women and children as they bow in respect. Laughter spreads as the names of his numerous brothers, their wives and children are introduced.
The eldest brother and the first to build his 'own' boma a few hundred feet away, walks us around, proudly showing off his father's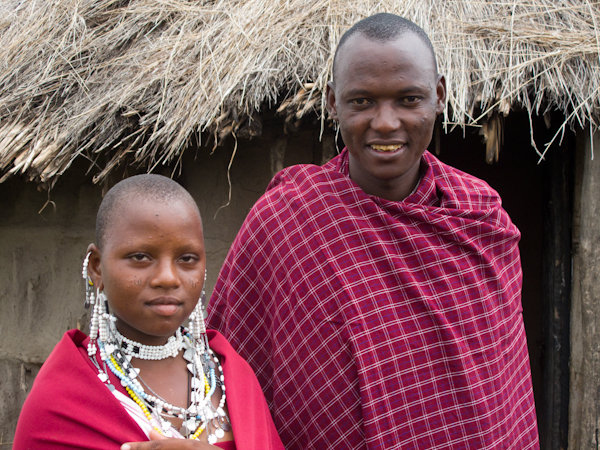 land, "The cows and goats live in these outside pens while the baby livestock sleep inside the huts…" Once our eyes adjust to the darkness of the mud hut, a fire pit, stools and sleeping areas emerge. The girls sleep on one side, the men on the other. Sitting next to Jay, he reveals fascinating stories of daily life, they choose to live without vehicles, electricity, or running water, they prefer to keep their pastoral, nomad way of life as warriors and herders of livestock. They spend money saved from selling livestock on food, education and healthcare. He built the only primary school room in his village, it sits in front of the baobab tree where he and a few others learned to read and write many years ago.
So proud to be Maasai, he loves his culture and the shuka, red checkered warrior dress, worn by the men. Animated, he tells us the right of passage for boys of 13 or 14. Becoming a warrior or moran usually lasts a month, they are taken with the elders, fed well and educated about the warrior ways, then when ready, the ceremonial circumcision to manhood begins. Ornate beaded jewelry adorn both women and men of all ages, weighted ear pieces create beautiful large loops in their earlobes. Bodily markings on the face, chest and arms often distinguishing families. Jay and I receive beaded bracelets as welcoming gifts. He and the other brothers love their cell phones, they are not afraid of blending modern parts of Eastern African life, as long as the Maasai culture can keep their age old traditions of grazing, interestingly they disdain agriculture and any form of land ownership. I wonder what North America would look like if the Indians had been allowed to keep their languages and cultures, instead of moving them onto reservations, forcing them to speak English and ending their ceremonial traditions?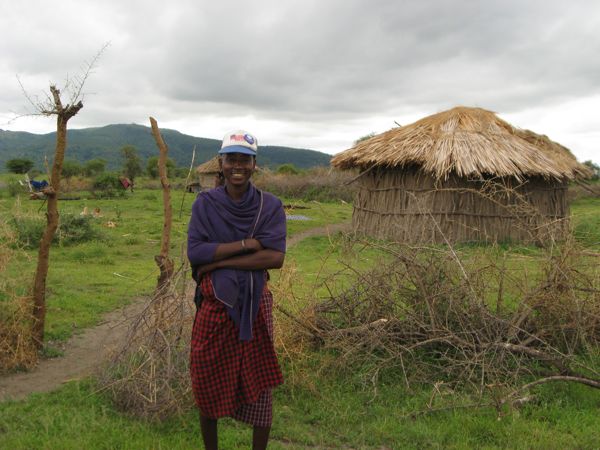 The escari Maasai and his young wife share his mother's hut, they will move into their own when they become pregnant. Another young daughter also lives in the hut to help out. The grandmother keeps her own hut near the goat corral and another young girl stays with her. The older brother takes us to his boma down the way where his third daughter of two months old and wife are resting, at thirty-nine years he is just starting and has a few mud huts built. His wife places the healthy baby in my arms as he tells us about childbirth. Alone with only women the mother delivers in her hut, men are not allowed to see his wife or baby for 2 weeks. Several celebrations are given for the family, the boma and the community with sharing of goats and cattle.
We leave the boma to meet his father at the weekly Maasai market. Hundreds of Maasai gather to sell livestock, slaughter and cook up a prize cut, drink banana beer, buy tire sandals, you name it…
A beautiful culture so alive and preserved, a breathing juxtaposition of cell phones and ancient ceremonies. Of course the reality  is complicated with a continual push to address issues such as women's rights, education for all, not enough roaming land for the tribes and the list goes on. But as more are educated and interested in preserving culture with progress, we can hope a balance is achieved.
[smooth=id:21]